Jump to:
¦
Original Show
¦
Prizes
¦
Guests
¦
Punishment Challenges
¦
Takeshi's Castle Thailand is a Thai revival of the cult classic Japanese comedy gameshow "Fuuun! Takeshi Jou" ("Showdown! Takeshi's Castle").

The show is based around the story of the evil Shogun Takeshi, who has kidnapped Princess Woonsen and imprisoned her in his castle.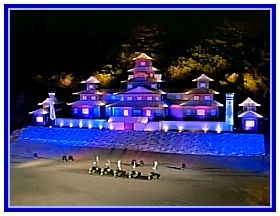 Takeshi's Castle


Each episode, General Shahkrit gathers an army of contestants with the aim of storming Takeshi's castle and freeing Woonsen - the love of his life.

In order to reach the castle, the contestants must overcome the silly but tough games that the Shogun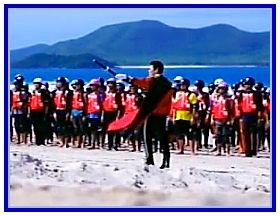 Army of Contestants

has built in attempt to halt such an invasion. General Shahkrit leads his army of contestants through the games, and the guards, standing in their way, and onto the castle to try to overthrow the Shogun and save the Princess.

Originally, the games whittled down an army of 100 contestants until only a few remained for the final battle.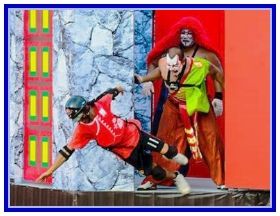 Honeycomb Maze


In this 'Show Down', the contestants have to break the paper ring on the Shogun Doll's cart to win. If team is successful in doing this they have beaten Takeshi, stormed the castle, and have won the jackpot (see

Prizes

)!

From episode 50 onwards the rules changed. Twenty contestants begin each show and no one gets eliminated.


Instead, how they fare in the games determines the number of carts they can use in the Show Down.

The army begins the episode with 10 carts, but being unsuccessful in a game will cause this number to reduced - with all the lost carts being given to the guards.
Lose 0 Carts ↓
Lose 1 Cart ↓
Lose 2 Carts ↓
Starting Game
All 20 contestants
clear the game
Not all contestants
clear the game

X

Main
Game
5 contestants
win the game
3-4 contestants
win the game
0-2 contestants
win the game

↑ PUNISHMENT CHALLENGE ↑
From episode 69 onwards, only twelve contestants begin each show. Now less wins per game are required to keep hold of the Show Down carts.
Lose 0 Carts ↓
Lose 1 Cart ↓
Lose 2 Carts ↓
Starting Game
All 12 contestants
clear the game
Not all contestants
clear the game

X

Main
Game
3 contestants
win the game

X

0-2 contestants
win the game

↑ PUNISHMENT CHALLENGE ↑
¦ Back to top ¦
Takeshi's Castle Thailand; Hod, Mun, Ha ("Cruel, Thrilling, Fun") was first broadcast on the 20th of July 2014. It aired on Thailand's Channel 7 every Sunday at 2:45pm, with most episodes running for one and three-quarter hours. The final episode was broadcast on 15th May 2016.

The first few episodes began with an animation introducing the story of Shogun Takeshi and Princess Woonsen's kidnapping.
Shogun and Sidekicks


The first shot, after the intro, sees the new army of contestants arriving to join the waiting General Shahkrit.

Shahkrit gives a pep talk to the contestants. He is joined by his assistant Plakung, and half-friend half-foe Fern the ninja. The trio talk with some of the contestants, before they are all sent into the first game.

Next, we visit the Shogun and his sidekicks in the castle. They set the scene for the episode with a comedic introduction. There is audience of other castle inhabitants watching the goings-on, along with Princess Woonsen who is sits alone to the side of the room.


Castle Sketch

Between each game, there are regular scenes inside the castle. These comedy segments often relate to what is going on within the main game, but are also used for sketches and amusing exchanges between the Shogun, Khom, Bon and Woonsen. Special guests also appear, and take part in the skits and gags.

After all the games it's time for the final battle.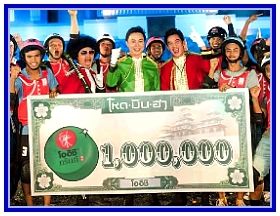 A Winner
If the contestants lose; Shahkrit speaks dejectedly
to the audience and then runs off to get ready for
his next attack.
If the contestants win; Shahkrit celebrates with the remaining members of his army and awards the prize money in the form of a giant cheque. Meanwhile inside the castle the Shogun isn't happy, and Woonsen is hidden away to stop her from being rescued.
¦ Back to top ¦
A cash prize is awarded to the contestants that manage to beat the Shogun.
In the first 24 episodes, if there was no winner the prize money rolled over and was added to the next week's million-baht prize.


Regular Prizes
Type
Amount
Given to...
Given out...
Main Prize
Eps 50-82
฿5,000,000
The army that beats Takeshi in the 'Show Down'.
Upon a
'Show Down' win.
Main Prize
Eps 1-49
฿1,000,000
The contestants that beat Takeshi in the 'Show Down'.
Upon a
'Show Down' win.
Man of the Game Award
฿10,000
The contestants who give their best effort, or are the most amusing.
To select contestants in episodes 1 - 24.



Below is a list of winners and the jackpot totals. Click the button to reveal them.


| | | |
| --- | --- | --- |
| Episode | Number of Contestants | Prize Money |
¦ Back to top ¦
Various guest characters have visited the Castle or arrived on the battlefield.
Below is a list of all of the guests that have appeared over the series.


| | | | |
| --- | --- | --- | --- |
| Ep# | Guest | Profession | Character/Role |
1
Jeab Chernyim
Actor
Game Engineer
Namwan Pimmara Charoenpukdi
Singer (ZaZa)
Game Engineer
2
Mik Thongraya
Actor
Prince
Tuitui Puttachat Pongsuchat
Actress, DJ
Servant
3
Pang Prakasit Bosuwan
Actor, Singer
Astrologer
Rotmay Kaneungnij Jaksamittanon
Actress, TV Host
Medium
4
Jingjok Somjet Payakso
Actor
Pirate
Grace Karnklao Duaysianklao
Actress, Model
Pirate's Wife
5
Suthep Phongam
Comedian
Father of Religion
Supathat Opas
Comedian
Young Monk
6
Chaloemphon Thikhamphonthirawong
Actor
Thief
Sukhonthawa Koetnimit
Actress, Model
Goemon's Wife
7
Somkiat Juntarabrahm
Actor, TV Host
Policeman
Pokchat Tiamchai
Actress, TV Host
Policewoman
8
Jaturong Mokjok Ponlaboon
Actor, Director
Ninja
Im Achita Sikamana
Actress
Ninja
9
Nui Chernyim
Actor
Wizard
Panwarot Duaysianklao
Singer
Sorceress
10
Tuk Boriboon
Actor
Pirate
Aon Sriphan Chunechomboon
Actress
Pirate
11
Boss Tonon Wongboon
Actor
Inventor
Joy Chuanchuen
Comedienne
Inventor
12
Golf Benjapol Cheuyaroon
Comedian, Actor
Yakuza Boss
Kambum Pimnipa Jittateeraroj
Actress
Yakuza Boss's Wife
13
Udom Chauncheun
Actor
Shogun's Father
Sophie La
TV Personality
Shogun's Ex-Lover
14
Thongthong Mokjok
Comedian, Actor
Cheif Engineer
Cholly Chon Wachananon
Actress, Model
Assistant Engineer
15
Aood Pentor
Actor
Royal Comedian
Tonhorm Sakuntala Thianphairot
Actress, DJ
Royal Comedienne
16
Joey Chernyim
Actor, Comedian
Indiana Joey
Jik Naowarat Yuktanan
Actress
Adventurer
17
Ouan Rangsit
Actor
Newlywed Prince
Hedpor Chernyim
Comedienne, Actress
Newlywed Princess
18
Pongneng Chernyim
Actor, Comedian
Master of the Seas
Luktarn Alisa Wills
Model, Actress
Mistress of the Seas
19
Nui Thanawat Prasitsomporn
DJ, Actor
Doctor Father
Dao Nathapatsorn Simasthien
Singer, Presenter
Doctor Mother
20
Der Doksadao
Comedian
Shogun's Friend
Anyarin Thirathananphat
Actress
Friend's Daughter
21
Bom Kantapat
Singer
Combat Expert
Gade Thanya Rattanamalakul
Actress
Combat Expert
22
Ped Chernyim
Actor, Comedian
Rich Friend
Kik Mayurin Pongpudpunth
Actress, TV Host
Rich Friend
23
Luerfuer Mokjok
Actor, Comedian
Inuit
Kratip Shawankorn Wantanapisitkul
Actress
Inuit
24
Anna Chuancheun
Actor
Visitor from China
Ying Kanyapatch Thananchaiyakarn
Actress
Visitor from China
25
Bookko Thanatphan Buranachiwawilai
DJ, Actor
"Pretty" Girl-Hater
Janet Khiew
Actress, Singer
"Pretty" Girl-Hater
26
Petjah Wichian Kusolmanomai
DJ
Husband
Newclear Hansa Chuengwiwatthanawong
Singer
Wife
27
Pong Kapon Thongphlap
Actor, Presenter
Shaman
Giftza Piya Pongkullapa
Singer, Actress
Shaman
28
Toptap Napat Chokejindachai
Actor, Presenter
Astronaut
Gunjaezol Panthothong Bunthong
Singer, Actress
Astronaut
30
Pang Prakasit Bosuwan
Actor, Singer
Battle Strategist
Giftza Piya Pongkullapa
Singer, Actress
Battle Strategist
31
32
Jaturong Mokjok Ponlaboon
Actor, Director
Father
Frankfurt Jaturapak Ponlaboon
-
Son
33
Big Thongpoom Siripipat
Actor, Model
Policeman
Joy Chuanchuen
Comedienne
Policewoman
34
Thee Tharontan Wanichnanthatada
Actor, Model
Mr Cosplay
Ben Punyaphon Phunphiphat
Actress
Mrs Cosplay
35
Thongthong Mokjok
Comedian, Actor
Beauty Queen Mentor
Jik Naowarat Yuktanan
Actress
Beauty Queen Mentor
36
Bom Kantapat Permpoonpatcharasuk
Singer, Actor
Healthy Guy
Ae Maneerat KhamUan
Actress
Healthy Girl
37
Than Thanakon
Actor
Fighter
Pattai Deejai
Actress
Fighter
38
Pai Partith Pisitkul
Actor
Star & Moon King
Kratip Chawankon Wanthanaphisitkun
Actress
Star & Moon Queen
39
Mai Sukonthawa Kerdnimit
Actress, Model
Cleopatra
40
Chaloemphon Thikhamphonthirawong
Actor
Archaeologist
Ood Pentor
Comedian
Caveman Flintstone
41
Tuarae Chernyim
Comedian
Deadly Witchdoctor
42
Kratip Chawankon Wanthanaphisitkun
Actress
Sub. Lieutenant Tippuko
At Orn-Arnich Peerachakajornpat
Actress
Woosenko's Sister
44
Nulek Kaka Konbai
Comedienne
Scientist
46
Nui Chernyim
Actor
Ninja Master
Hedpor Chernyim
Comedienne
Ninja
49
Nui Thanawat Prasitsomporn
DJ, Actor
Conman
68
72
74
75
Thongthong Mokjok
Comedian, Actor
Sub. Lieutenant Tongutongu
¦ Back to top ¦
From episode 50 onwards; if contestants don't totally beat a single game, the team will be forced to face a punishment. Presided over by a Punishment Samurais, there are a range of forfeits that players may have to suffer.


| | | |
| --- | --- | --- |
| #01 | Cold Feet | Contestants must stand barefoot in a bath of ice for 1 or 2 minutes. |
| #02 | Bum Shot | Kneeling in a human pyramid, contestants have cannonballs fired at their backsides. |
| #03 | Wax Off | Male contestants have a waxing strip stuck on and torn off of their legs. |
| #04 | Tongue-Fried | Contestants have their tongues brushed with wasabi paste. |
| #05 | Fit to Burst | Contestants wear a shirt with a balloon underneath, which is then inflated until it bursts. |
| #06 | Pit Face | Contestants faces are rubbed in the armpit of an overweight person. |
| #07 | Ping Pong Pain | Contestants have table tennis balls served at their faces. |
| #08 | Bucket Triste | Contestants are tied to a contraption that tips a bucketful of various liquids over them. |
| #09 | Stuck and Blow | Three contestants are tied by their arms, covered in sticky liquid, and have powerful fans blow powder at them. |
¦ Back to top ¦